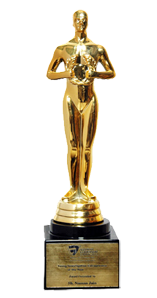 "Awards are a true testimony of the sustained excellence of an organization!" This popular proverb aptly testifies why Sleuths India is the "Most-Valued-Brand" in the investigation domain of the country. In its already swelling cupboard of honours, the company has recently added another prestigious medal when its MD, Mr. Naman Jain was awarded with the 'Young Investigation Entrepreneur Award'. The award recognizes Mr Jain's outstanding leadership skills and innovation abilities in the investigative segment to propel the company on the path of unprecedented growth and glory.

Mr. Naman Jain was honoured in a high-profile and dazzling ceremony that was held at 7th Security Leadership Summit, Manekshaw Centre, Delhi Cant, New Delhi. His candidature was shortlisted by a reputed panel that included some of renowned IPS and IAS officers who selected him from a huge pool of over 3000 security and detective agencies from all across India.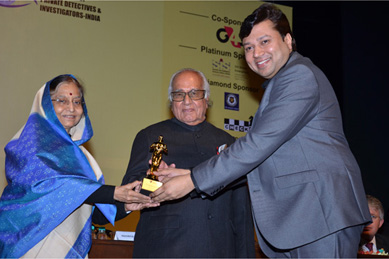 At the ceremony, former President of India, Smt. Pratibha Devi Singh Patil handed over the award to Mr. Naman Jain amid raucous cheers and congratulatory gestures from the reputed crowd. Governor of Punjab, His Highness, Shri Shivraj V. Patil presented the "Certificate" to Mr Jain regarding the same award.

The high-status attendees also include the names like Former Governor, Goa, Maharaja Bhanu Prakash Singh, General (Retd) VK Singh, Former IGP-Punjab, Mr. C. Pal Singh and Vice President of the World Association of Detectives Ms. Christine M Vinson. Among bureaucrats, in attendance were Sh. Anil Chowdhry IPS (Retd), Sh Joginder Singh IPS (Retd), Shri N.C. Padhi, IPS (RETD), Dr. Sharda Prasad, IAS and SHRI B S SIAL, IPS (Retd).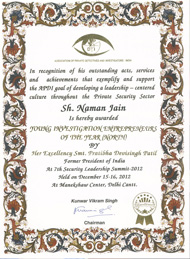 Guests from media, detective and education sector also made the visit to add to the lustre of the occasions. Some other prestigious names to have graced the events were Mr. Eduard J. Emde, CPP, Lt Gen S S Chahal, Sh. Chandan Mitra, Managing Editor the Pioneer and Mr. Peter D'Arcy, Associate Professor of Security Sciences, Edith Cowan University, Australia. With this award, both Sleuths India and Naman Jain have now joined an elite club that witnesses the inclusion of only all-round excellence and innovation. The award is a true testimony to unrivalled leadership skills, penetrating wisdom and acute vision that Mr Jain has been exhibiting to put Sleuths India on the path of tremendous growth.

The Young Entrepreneur Award could not have been awarded to anyone else than Mr Naman Jain who has single-handedly transformed the fate of a company in a very short-span of time, changing its modest beginning into a highly acclaimed and pan-national private investigation agency. He has helped the company to register an amazing 1000% growth in revenues on the back of possessing maximum number of employees in the domain and having multiple offices spread in all parts of India.

Naman Jain led Sleuths India to open sprawling and posh offices in Mumbai, Bangalore and Noida where a team of intelligence bureau officers, including retired colonel and ex-army-men, would guide the organization forward. He has consistently been managing senior people from the army and intelligence bureau to oversee day-to-day operations to maintain an enviable 99% customer satisfaction.

Besides being a first-rate manager-cum-leader, Mr Jain is an internationally-acclaimed private detective with an uncanny knack for details and information. He is credited to have personally sorted out many publicized cases of India to achieve respect of the peers and profound all-round popularity. Furthermore, he enjoys a huge presence and visibility in the media, and many leading publications have published many of his interviews to share his wisdom and knowledge of the domain....!!!

And now with this prestigious award, he seems to have elevated his positions and reputations to the next and unsurpassed level. Many think that this award is a true testament to Mr Jain's incredible hard work and unbridled passion put over the years to make Sleuths India the "Most Valuable Brand" in the investigation domain. Even after the honour, he would continue taking the company to even at more growth-oriented path to make it among the "Best in the world"!