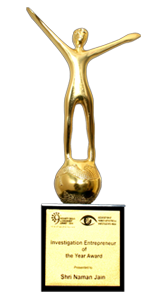 Awards are often a natural outcome of the sustained exemplary works and a passionate zeal to reach the pinnacle!"

The mentioned proverb holds nowhere as true as for the MD of Sleuths India, Mr. Naman Jain, who is now seen synonymous to everything excellent in the domain of private investigation. In 2012, the man had won the "Young Entrepreneur Award" by the president of India to herald the arrival of unrivalled foresight and wisdom to the investigation industry. Two years later, he's now achieved something even bigger, grander and more prestigious - winning "Investigation Entrepreneur of the Year Award" for 2014, by MoS, Ministry of Home Affairs.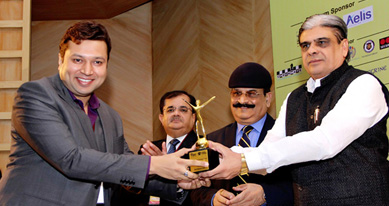 The difference in timing of both the awards clearly indicates that this extra-motivated MD continues to define investigative excellence, year after year. Also visibly noticeable is the ability of the man who's consistently been spearheading superlative works and stupendous success stories of a premier agency, Sleuths India. In essence, this award brings forth the consistency of Jain's vision and dedication towards making the difference to the lives of people by delivering them world-class services and solutions of private investigation. This timely recognition further strengthens his reputation and testifies the leadership skills in an ultra-competitive and volatile sphere.

Such an award rightly justifies the motivation of an MD who never fails to experiment beyond the established conventions and norms of the industry. In fact, bagging this high-profile award also tells the passion of someone who is driven to redefine the meaning of investigative services. Fittingly, this high-status award was extremely hard to win, as over 3000 security and detective agencies from all across India participated in it. Moreover, the selection process was so rigorous to keep every entrant nervously guessing about the potential winner, thus raising the anticipation level many notches up.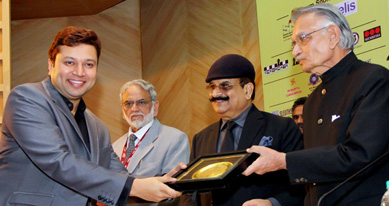 A jury comprising of senior IAS and IPS officers took the final decision, based on a set of criteria that involved assessment of each agency's turnover, expansion & growth, market credibility, successful execution of cases, client satisfaction ratio, employee satisfaction ratio etc. A strong and eclectic clientele was also considered to decide the fate of each entry. Amid this intense competition, Sleuths India and Naman Jain seemed to have greatly benefitted from their strong year-round media, and their claim to the trophy is reportedly boosted by a successful handling of many high-profile cases and their frequent reporting across platforms. The ceremony was equally dazzling in proportion, witnessing the presence of some highly placed dignitaries from across spectrum of society. The award itself was presented by Shri Haribhai P Chaudhary, Minister of State, Ministry of Home Affair. The governor of Punjab, Shri Shivraj Patil gave away the 'memento of appreciation' to Naman Jain.

The occasion, 9th SECURITY SKILLS & LEADERSHIP SUMMIT – 2014, was graced by highly placed dignitaries and ministers. The notable attendees included the likes of Shri Rajiv Pratap Rudy (Minister of Skill Development and Entrepreneurship and Parliamentary Affairs), Shri Jual Ram (Minister of Tribal Affairs), Shri Shivraj Patil (Governor of Punjab). In attendance were also Shri V Vumlungmang ( IAS, Joint Secretary, PM, Ministry of Home Affair), R K Sinha ( MP, RajyaSabha), Sh. BS Sial ( IPS, Former DGP, Karnataka Police), Shri Ramesh Sharma ( IPS, Former DGP, Madhya Pradesh Police), Maharaja Bhanu Prakash Singh ( Former Governor & Union Minister), Shri O P Sharma ( Former Governor of Nagaland).

Organized on 12th& 13th December, at PHD Chambers of Commerce, New Delhi, this grand affair was also attended by luminaries like Amar Pandey (IPS, ADGP Karnataka Police), N C Padhi (IPS, Former Secretary Security, GOI), Shri Joginder Singh (Former Director CBI), Shri C Pal Singh (IPS, Former IGP) and K S Ramasubban (Chief Vigilance Commissioner- WB). Expectedly, the ceremonial hall was packed with over 500 high-profile people of the domain, including CEOs, Managers, MDs, Chairpersons and other big names. In essence, a total presence of the industry was seen that took the ceremony to an altogether different level.

The Sleuths India team made their presence felt, and became a joyful spectator in a big round of cheers and appreciative nods that echoed the jam-packed hall as soon as the name of Naman Jain was announced. In the end, the winner confidently walked up to the stage, greeted one and all, and lay the hand to a trophy that rightfully belonged to him.