Investigation Leadership Award
Home / Investigation Leadership Award
Nidhi Jain is the winner of the prestigious "Investigation Leadership Award" for 2017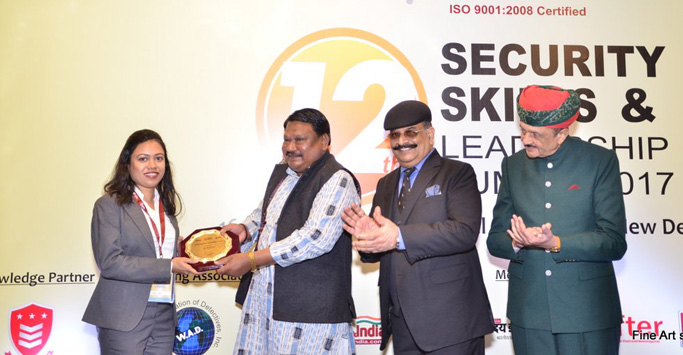 The management team and its continuous efforts towards investigation excellence make Sleuths India arguably the most-awarded private detective agency in the country. Its director Nidhi Jain thus proves again why she's hailed for her matchless leadership credentials, and also for redefining the private investigation segment.
She now becomes the only lady detective in India to ever win the prestigious the "Investigation Leadership Award" for 2017. This is another massive achievement in a career marked by a series of successes involving several high-profile solved cases and rich mentions across media platforms.
The award was presented to Nidhi Jain in a glittering ceremony attended by top industry leaders and distinguished guests from different walks of life. The award function - 12th Security Skills & Leadership Summit – 2017, was held at Hotel Le Meridien, New Delhi on 16-17 December, 2017, and the trophy was handed over to her by Sh. Jual Oram, Hon'ble Minister of Tribal Affairs.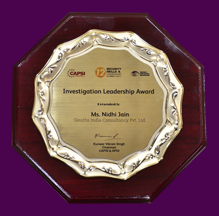 The award deservedly belongs to Nidhi Jain for she has been guiding Sleuths India single-handedly, managing its vast network, handling all its four branches and collaborating with branch managers besides forming the nucleus of the investigation team. She is responsible for transforming a small agency into multi-crore domain leader in the field of private investigation space.

Fitting so, during the ceremony, the stage was also shared by prominent guests such as Maharaja Raghubir Singh Ji and Kunwar Vikram Singh. Some of other high-profile guests to grace the occasion included the likes of Gen. Dr. V K Singh, Hon'ble MOS, Foreign Affairs; Dr. Vikram Singh, IPS (Retd.), Former DGP (U.P.); Lt. General K. J. Singh (Retd.) PVSM, AVSM with BAR.

Further, the ceremony was also attended by notable people from across different walks of life, including Maharaja Ranjit Singh ji; Maj. General K. Majumdar (Retd.); Maj. General Umang Sethi (Retd); Sh. C Pal Singh, Former IGP; Sh. B. S. Sial, IPS (Retd.) Forner DGP, Karnataka; Maj. Gen A. K. Sakhuja, CEO, SSSDC; Lt. Gen. Rajender Singh, PVSM, SM, VSM, Former Director General of Infantry (Indian Army)

This award also acknowledges the outstanding work and impeccable track record enjoyed by Nidhi Jain in the space of private investigation. The achievement is rare as she is the only lady detective from the domain to be chosen for such a big award, highlighting her investigation excellence and leadership qualities.

The award honors the determination and distinction of a lady who defied all odds, broken conventions and fought stereotypes to carve a niche in a space considered a male territory. She has achieved a lot in a decade-long career helping in the process Sleuths India reach to the levels where it's today.

Sleuths India is privileged to be led, guided and mentored by a director of that high caliber and salutes her indomitable spirits and zeal to raise the bar in the industry. Without her consistent efforts, the agency would never reach the glorious heights it did so effortlessly in a journey of around 17 years.